Article
New USA Vs Old India
13 Nov 2020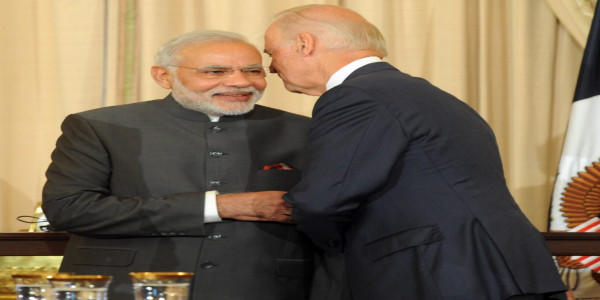 As the road to white house clears for Joe Biden after defeating Donald Trump, new questions have emerged for the Indian Government, the flag bearer of which has always endorsed Donald Trump.
The two-party electioneering of the USA is unique. The 50 states are firmly divided into Blue and Red blocks except 6-8. It always boils down to 6 key states - Arizona, Florida, Michigan, North Carolina, Pennsylvania, and Wisconsin. This year Covid 19 triggered a rare method of leading to a mail-in ballots system.
As early as April this year, Donald Trump is on record raising the danger of "fraud" taking place if postal balloting was permitted. Speaking to media at the White House, Trump said "mail-in voting is horrible, it's corrupt."
On 05 August he is on record saying "mail-in votes in Nevada and other states will lead to widespread fraud." He also identified Arizona as another state where these votes may be cause for concern.
For some or the other reason, Trump has had imminent worries unlike 2016, which had made him brashly arrogant towards his opponents.
Indian Prime Minister Narendra Modi got along with Trump like a house on fire. They were of a kind. The current political regime led by Modi, on the same lines as Trump is accused of distortion of facts, spewing of hatred for a particular group and sizeable megalomaniacal party members.
Joe Biden, even before he was President Barack Obama's vice president, was a champion for India in the Senate, pushing hard for a nuclear deal between the two nations. Biden has also promised to allow more visas for skilled immigrant workers, which President Trump drastically reduced, and Indian workers could benefit enormously from that.
But foreign policy experts expect that the Biden-Harris team will also be tougher on India. They say that the policies of the Indian prime minister, Narendra Modi, have made life more difficult for Muslims in the country, and while the Trump administration has kept quiet about changes in Kashmir and the passage of a new, blatantly anti-Muslim citizenship law, Ms. Harris and Mr. Biden are likely to be more critical.
Biden has been disappointed by the measures that the Indian government has taken with the implementation of the NRC in Assam and the passage of the CAA into law. Biden wants India to take the necessary steps to restore the rights of Kashmiris. He stated that the restrictions on dissent, such as preventing peaceful protests or shutting or slowing down the internet, weakens democracy.
But, the fact that Kamala Harris will be the first Indian American Vice President of the United States may change Indian engagement with American politics, as well as the United States' response to issues in India. But, we cannot ignore another fact of Kamala Harris being a centrist like Joe Biden and Obama may create a problem.
So far Biden may be considered better than Trump. A gander at how Trump recently insulted India by saying it has 'filthy air' and Biden tweeted saying that's not how you talk about friends. Biden has also committed to strengthening the US-India ties. In an Indian-American newspaper, he wrote, "The US and India will stand together against terrorism in all its forms and work together to promote a region of peace and stability where neither China nor any other country threatens its neighbours. We'll open markets and grow the middle class in both the United States and India, and confront other international challenges together, like climate change, global health, transnational terrorism, and nuclear proliferation." He believes the India-US partnership is the defining relationship of the 21st century, and he plans to strengthen ties between the two countries.
Biden believes that there is a lot of scope in bilateral trade. When he traveled to India, he set the goal of taking the bilateral trade to $500 billion, which as of now is a little over U$150 billion.
During his presidency, Donald Trump suspended H-1B visas. The Trump administration announced that it would scrap the lottery system and replace it with a process that gives priority to the highest paying jobs. But, Joe Biden has promised to lift Trump's ban. He announced that he will definitely reform country quotas on green cards. So, Biden's win will be really beneficial for Indians trying to become permanent U.S. residents. But, his support of a wage-based allocation process for H-1Bs, may become a problem.
Trump pulled India from both the Iran nuclear deal and the Paris agreement. He forced India to not buy cheaper oil from Iran and Venezuela and buy more expensive oil and gas from the US. While Biden promised to reverse both these decisions. If the US takes a U-turn on Iran, it will give India access to cheaper oil. And if the US will rejoin the Paris Agreement, climate change negotiations would happen at a commonplace and India stands to gain a lot in terms of leading the efforts.
US and India signed three agreements under Trump for closer military cooperation as a common realization of an increasing threat from China. In 2020, India banned 59 Chinese apps which resulted in a clash between Indian and Chinese troops. Over 20 Indian troops and 35 Chinese troops were reported killed. Biden has comas a common realization committed to strengthening military cooperation between the U.S. and India. But if he eases pressure on China, it could leave India high and dry.
Russia and China are holding their horses and have refrained from greeting Biden. Most of the world's practicing democracies including India have already greeted Biden. The question now is whether we will stay the course and sanction the Trump regime by ignoring it, like popularly elected US administrations have done to others in the past?
Read More: